Bestel vandaag voor 18.00u, morgen in huis.
Teenage Mutant Ninja Turtles 2

- GBA All in 1!

Kopen:
-Tijdelijk uitverkocht-
We mailen je graag eenmalig wanneer deze weer voorradig is. (Je email adres houden we geheim.)
Teenage Mutant Ninja Turtles 2 is vrij zeldzaam, maar ooit krijgen we deze weer binnen. De prijs 21.49 euro, is een indicatie.
Wanneer weer op voorraad?
Specificaties
| | |
| --- | --- |
| Platform: | GameBoy Advance (GBA) |
| Voor: | GBA (SP) & DS (lite) |
| Regio: | Vrij |
| Genre: | Vecht |
| Uitgebracht: | 2004 |
| Leeftijd: | 3+ jaar |
Anderen bekeken ook:

Afbeeldingen
De Teenage Mutant Ninja's zijn terug en opnieuw trekken ze ten strijde tegen Shredder.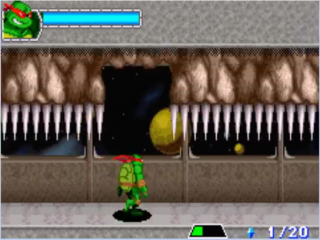 Speel als je favoriete groene held, maar let op voor de valstrikken, zoals dit beweeglijke plafond.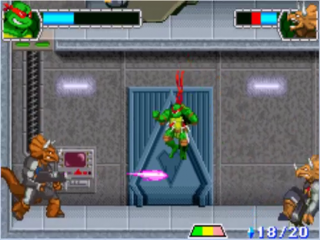 Ontwijk de laserstralen van je tegenstanders door te bukken of er overheen te springen.
Via de buizen kan je afdalen, maar laat niet te vroeg los of je houdt er een pijnlijke buil aan over.
Links
Beoordelingen
Teenage Mutant Ninja Turtles 2
Wij hebben nog helemaal geen beoordelingen...
Voeg jouw mening toe
en verdien 40 tot 75 muntjes.

Tips en geheimen, cheats en codes
Links
Anderen bekeken ook: